Claremont - our Headquarters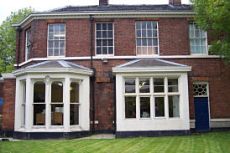 Facilities
Claremont is the headquarters of the Yorkshire Archaeological Society and its specialist Sections. This Georgian house is home to one of the most important and unique collections on the history of Yorkshire. For Family Historians it provides a convenient and comprehensive resource. Public rooms include the main library; the archive reading room; the fiche reading room with 7 fiche readers and the lecture room. Visitors also have access to a fiche reader/printer and copying facilities for use on suitable material.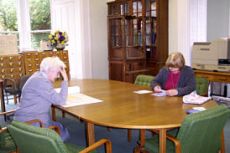 Library
The library houses a comprehensive collection of material on the ancient county of Yorkshire. The collection includes books, maps and photographic collections directly relating to Yorkshire, unpublished transcripts of some Yorkshire Parish registers, and also Monumental Inscriptions as well as an extensive collection of publications from other counties and societies.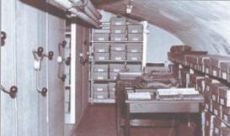 Archives
Holdings include family collections, estate papers, and manorial records from the whole county of Yorkshire - including the series of court rolls for the Manor of Wakefield covering the period from 1274 to 1925. The diversity of material is one of our major strengths in the library and archive. In reflecting the widely varied interests of the membership, the library is certain to hold something of interest for everyone looking into the history of the county of Yorkshire and its people. You will find a catalogue of YAS holdings on the West Yorkshire Archive Services web site at http://www.archives.wyjs.org.uk/ or on the A2A web site at http://www.nationalarchives.gov.uk/a2a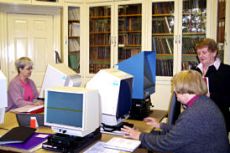 Microfiche
The Section holds: The G.R.O. Indexes to Births, Marriages and Deaths for the years 1837 to 1930. The National Probate Calenders for the years 1858 - 1943. The 1881 Census Index for England and Wales. The 1982 edition of the International Genealogical Index (IGI). National Strays fiches and various other Indexes for research purposes. There are microfiche copies of the original parish registers held at Wakefield, Calderdale, Kirklees, Beverley, York, Bradford and Leeds District Register Offices, covering most of the West Riding and some East Riding. Claremont also holds some Non-Conformist Registers.